(Last Updated On: September 27, 2021)
Are you worried about how to deal with teenage addictions? Do you have teenage children? Growing up teenagers face many difficulties and experience a variety of social, mental, and emotional changes. Teenage addictions can set the tone for a lifetime.
Teenage Addictions – Reasons – Effects – Recovery
Sometimes teenagers find it difficult to share their problems with family and friends. That leads to intense mood swings, anxiety, depression and other psychological problems. Parents should be careful about the activities of their kids and ensure that they do not fall into any kind of addictions, friendship with bad habit people.
Teenage Addictions
This video story of one teen reveals how addiction takes hold and turns this youth into a drug addict. Remember, Teenage addictions can be prevented by supportive parents.
Addicts need a support system and professional medical help.
Click To Tweet

Bad Environments Cause Teenage Addictions
In the video story, divorced parents cause stress to the child, and that leads her to find love and support from friends. In that journey, she walks through the wrong path, guided by bad friends. So in this story, parents, situations and bad environments cause teenage addictions.
When getting divorced, do the couples think about the future of their children?
Click To Tweet
When getting divorced, do the couples think about the future of their children? Most times, No. When children do not get the love and affection of their parents, they find new ways and friends to remove stress and find happiness. Sometimes that push them to addictions.
Not only divorce but also unhealthy family relations can cause stress and lead to teenage addictions. So, always think about your children and keep your family healthy and happy, be cautious about the behaviour of your children and their friend circle.
Keep your family healthy and happy, be cautious about the behaviour of your children and their friend circle.
Click To Tweet
Identify Teenage Addictions
Do you fear that your teenager is struggling with an addiction problem? Teenage is often a complicated time for teenagers and their parents because at this stage kids can fall into bad habits and addictions. Reasons can be many such as the curiosity to know, learn and test new things, ways to relax from stress, social reasons, bad environments and friends. No matter what the reason is, it is important to identify an addiction problem and solve as early as possible.
Smartphone addiction is a major problem many children are facing and it affects their study, mental health and life.
You teach your child to speak, walk and eat, but do you teach to embrace healthy and positive attitudes and behaviours in adolescence?
Click To Tweet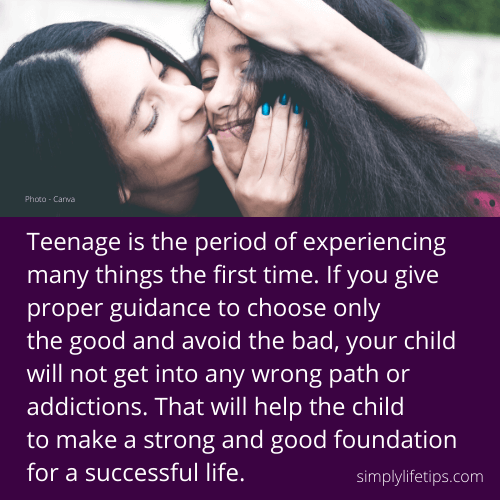 Teenage is the period of experiencing many things the first time. If you give proper guidance to choose only the good and avoid the bad, your child will not get into any wrong path or addictions. That will help the child to make a strong and good foundation for a successful life.
Teach your kids to accept and follow only the good and reject the bad.
Click To Tweet
How to deal with teenage addiction
Teenagers often have difficulty in accepting criticism hence instead of criticising express how you feel bad about the problem.
Encourage and give time to the teenager to express own views about the situation and problem.
Find out the exact or possible reasons that could be behind the problem.
Take a few seconds to think before acting. Always applaud the efforts and successes of your teenager.
Establish boundaries that cannot be overstepped.
Make aware your teen about the dangers that may lurk on the journey to adulthood.

How to Talk to Your Teen About Drugs & Drug Addiction
This Infographic, a guide, explaining how to talk to a teenager about drugs and drug abuse.
You will be proud of the success of your child and also have invested your valuable time and energy into the well-being of the child. When you deny his/her wishes to do something, they may feel sad, but when your teen becomes a successful adult, he or she will realise the truth and will be thankful to you for your care and support.
Conclusion
Identify teenage addictions and start proper treatment at an early stage to save the life of your children. Parents and teachers are the best people to help recovery from teenage addictions. Recovery is so hard, it is not linear, but it is possible. You will be able to one day call yourself "recovered" instead of "recovering".
Recommended for further reading
If you found this post useful, please recommend and share to help others find it! You can easily share by clicking on share buttons. Remember"Sharing is Caring!"
Feel free to leave your thoughts below.
Mathukutty P. V. is the founder of Simply Life Tips,  a passionate Blogger, Content writer, Influencer, YouTuber. Lives with a notion "SIMPLE LIVING, CREATIVE THINKING". Believe – "Sharing is caring."  "Learning never ends."