(Last Updated On: October 26, 2021)
Have you heard about Remya Ganesh wheelchair model and dancer? She is always in a wheelchair, but today she is a wheelchair model, dancer, and also motivational speaker. Remya Ganesh proves that if you have self-confidence, a positive attitude, courage, and support from others, no power in the world can stop you from achieving success.
Who Is Remya Ganesh Wheelchair Model And Dancer?
Remya Ganesh was born in Kannadikkal, a picturesque village in Kozhikkode, Kerala State, India. Remya was born as a healthy baby girl to her parents Mr Ganeshen and Mrs Sathidevi. She was a little doll for her brother Satheesh and sister Sajitha.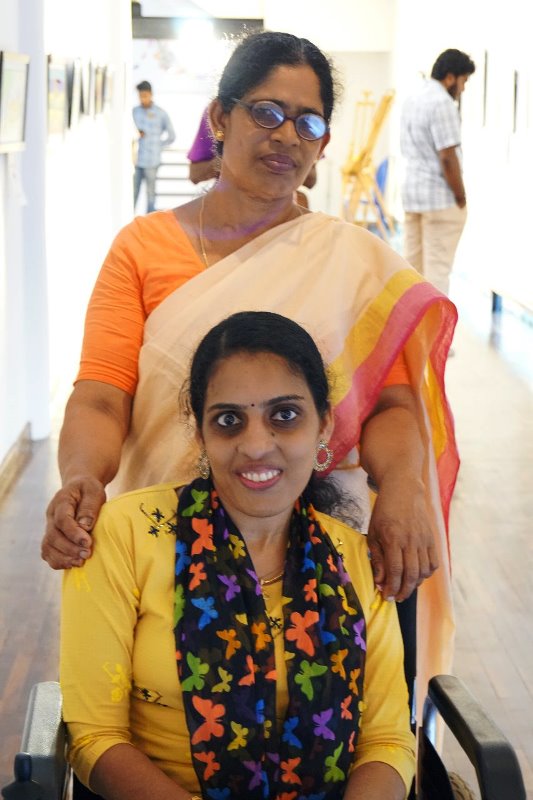 Effect of Polio vaccination affected her body and brain
Unfortunately, when Remya Ganesh was nine months old, as a side effect of Polio vaccination she fell sick with a high fever. It caused a huge ruckus in her body. The fever gradually affected her brain that ultimately weakened her body and she fell sick with a severe condition. This eventually caused a ripple effect in her body and as the years moved forward, she could sense a lot of trouble with walking. However, her parents, brother, and sister always made sure that she was taken care of well. So she would go to school braving all odds.
Education
She did her schooling at Nadakkavu Government Girls Higher Secondary School. Due to the unavailability of a scribe in her school, Remya Ganesh couldn't get through her Matriculation. But apparently, life had different plans for Remya Ganesh. When she was in Std.10th her father passed away out of the blue. It was a huge blow on her family and one they were quite unprepared for. It sent her down a spiral and sink her into depression. By the grace of the almighty God and also with the continuous help of her family and friends, Remya got out of that depression.
As there were other pressing issues in the family that had to be attended to, she decided to discontinue her education. It took 9 years to enter the education sector again but she is proud that she is the first person to pass SSLC and Higher Secondary through Saksharatha Mission.
It was her Sukhadev sir who encouraged her to continue her education and enrolled her to write her SSLC examination through Saksharatha Mission. Remya becomes out of words when she talks about Sukhadev. Today also she told me that Sukhadev sir is the person who brought her to the outer world. It was through him Remya Ganesh came to know about the foundation "Dream of Us", an NGO for people with disabilities who sponsored her higher education, travel, and other expenses.
Computer programming and life skills workshop
At age 24, Remya Ganesh got the information about a three-month workshop in Nadakkavu, Kozhikkode by Dr Reddy Foundation, mainly aimed at disabled folks and she decided to give it a try. The course was being conducted a little far from her house. But to help her daughter to overcome the loneliness, Remya's mother decided to enrol her in the course. Her mother never thought that it was going to become a life-changing incident for her daughter. In this course, students were taught all about computer programming and life skills. She found her lost self-confidence making its way back to her. But the main thing was meeting other folks with a similar condition.
Just knowing that there were so many people just like her was comforting enough and hearing their stories about having it worse pushed her to focus on enabling more opportunities for their community. This program also helped her to connect with her mentor who has since then played a pivotal role in her life. This course helped to boost her self-confidence and with that energy, she passed Std.10 and Plus two exams. Her present dream is to get a degree in Psychology.
She also participated in a program conducted by Pain and Palliative care. Remya was the coordinator of a drawing competition for the disabled conducted by 'Swapna Chitra'. She is very interested in reading and writing poems.
There are two incidents that are worthy of mentioning here
1. Her first dance performance in a wheelchair
It was a great dream for Remya Ganesh to dance. With her condition, she couldn't explore the dream much. But the universe made it possible when she met a team where she was coached on giving a performance with her wheelchair. In a WhatsApp chat, one day, Remya Ganesh told her friend Ambiliy about her dream of dancing. Her friends could not ignore the wish of their intimate friend in a wheelchair. After that everything happened to fulfil her dream. 'Team Sustrai' helped her to achieve her dream. Sustrai is a dance company founded by a group of friends during the covid19 lockdown period. Remya Ganesh is also part of Team Sustrai. Their main aim is to encourage and create dance performance videos of disabled people who have hidden talents and dream to become actors and dancers.
2. Organising an art exhibition for people with disabilities.
As part of an art collective, she was given the opportunity to organise and manage an art exhibition of five days. It was one of the most memorable events in her life to date.
Remya Ganesh wheelchair model
Remya Ganesh is also known as a wheelchair model in Kerala. She became 'Kerala's first wheelchair model'. This was part of a three-day carnival named 'Curious' hosted by the Institute of Palliative Medicine (IPM) Kozhikode as a part of 'The palliative care day' in 2019. Remya also did modelling as a cover girl for the Praajahita Foundation's magazine.
Dreams Of Remya Ganesh Wheelchair Model
Would like the world to know that there are so many multi-talented folks with disabilities, confining some of their abilities has only led them to explore their limits in other areas.
Dream to help those children who are with intellectual impairment.
Wants to encourage and motivate people with any type of disability that they should be strong, confident, and fight for their dreams.
Remya Ganesh says "Never once have my mom or my brother made me feel like a lesser mortal; never once showered any sympathy. I was always cared for but they were extra careful to make sure that I never felt left out."
Inspiring Life Story Of Remya Ganesh Wheelchair Model
Kerala's first paraplegic person to attend college
15 years ago when Remya Ganesh failed in the Class X examinations, she decided to quit her studies. But now, the 30-year-old Remya is excited about stepping into a college for the first time on November 1st for pursuing BA Malayalam. Though colleges in Kerala is fully opened on 25th October, considering her condition, Remya has been asked to join on 1st Nov. She had completed her class X and XII equivalency exams from Girls HSS, Nadakkavu through the district literacy mission. He is Kerala's first paraplegic person to attend college under the initiative. Now, Remya is in her 2nd year BA Malayalam at Malabar Christian College. Due to the Covid-19 pandemic, educational institutions were closed and hence last year has been hectic for her as she was attending BA Malayalam 1st year through virtual classes unfailingly. (updated 26/10/2021)
Conclusion
The success story of Remya Ganesh wheelchair model and dancer is really inspirational and motivating. When we have mild pain or problems, we take them seriously and lose self-confidence. But if you look at the success stories of inspiring talents, physically and mentally challenged persons, you will find that there are many of them with God-given talents and became successful heroes in life. Let's help them, pray for them and encourage them to become successful in life. Instead of making fun of them, laughing at their disabilities, let's learn many things from them, including their self-confidence, positive attitude, and the courage to face challenges and overcome obstacles to turn failures into success.
Recommended inspiring stories of disabled persons
Thank you for the visit. Hope you enjoyed your reading.
Kindly share this article on your network and help others to read it.
Please leave your views about this article in the comments box.
Thanks to Remya Ganesh for checking the article and also for sharing photos.
Mathukutty P. V. is the founder of Simply Life Tips,  a passionate Blogger, Content writer, Influencer, YouTuber. Lives with a notion "SIMPLE LIVING, CREATIVE THINKING". Believe – "Sharing is caring."  "Learning never ends."