(Last Updated On: November 11, 2020)
This is an inspiring story of House Wife Turned Woman Entrepreneur Sheela Kochouseph Chittilappilly.
The new generation of women across the world has come a long way from just being a homemaker.
These days there are many female entrepreneurs. They have become instrumental in fighting gender stereotyping in the business community.
Let's meet such a powerful woman, Sheela Kochouseph Chittilappilly from Kerala, India. She is a housewife turned woman entrepreneur, the Managing Director of  V-Star,  who can be easily termed as a role model for every female.
Like this? Why not Pin it?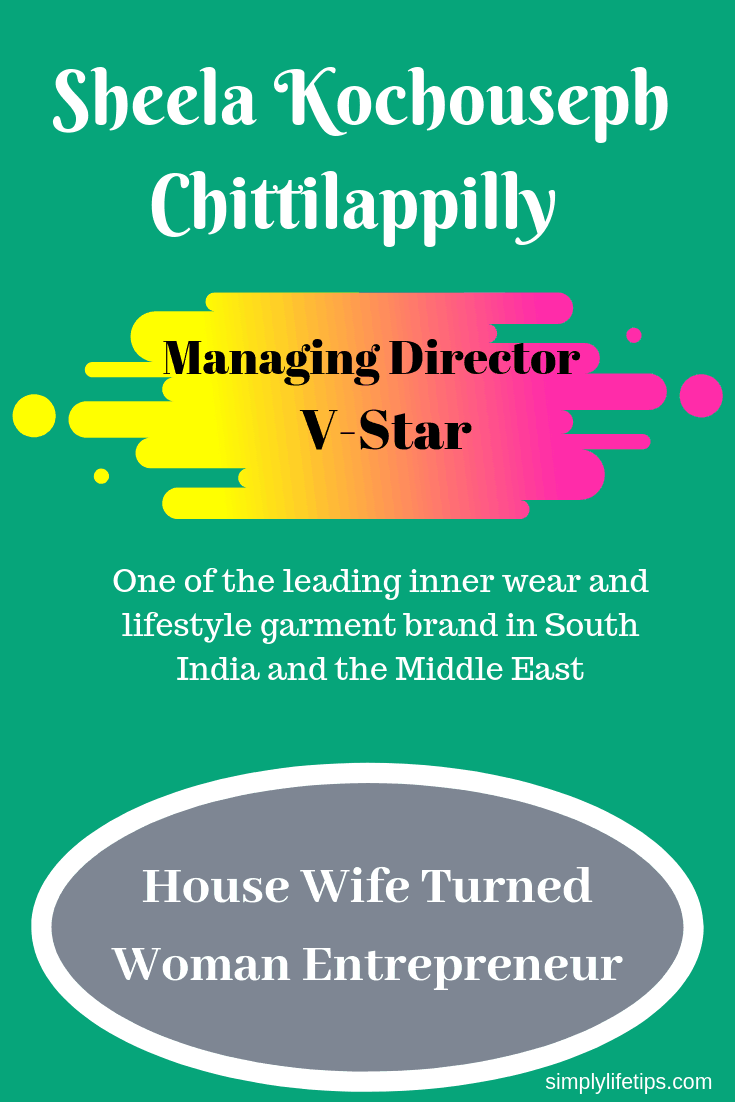 When optimism and hard work blends together there is a unique success story.
Click To Tweet
Sheela Kochouseph Chittilappilly
Sheela Kochouseph Chittilappilly is the wife of Kochouseph Chittilappilly, founder, and chairman of V-Guard and a chain of amusement parks called Wonderla.
Sheela Kochouseph Chittilappilly hails from Alappat Palathingal family from Kattor.
She grew up in a small village in Wadakanchery near Trichur, Kerala State.
Her father was the manager of the first branch of South Indian Bank in Wadakkanchery.
She studied at the St Pious Convent School and Government Girls High School in Trichur.
She got her degree in B.Sc Home Science from St Mary's College and did a few courses in dressmaking in Vimalalayam.
In many interviews, she mentioned her husband Kochouseph Chittilappilly as her inspiration. His time management skills, simplicity, and humanitarian nature are some of the qualities she appreciates and tries to follow.
Sheela Kochouseph Chittilappilly – Managing Director of V-Star
V-Star Creations is an Indian manufacturer of innerwear.
It is the sister concern of V Guard. V-Star was founded in 1995 by Sheela Kochouseph Chittilappilly.
V-star is one of the leading innerwear and lifestyle garment brand in South India and the Middle East. V-Star catalogues a wide range of quality innerwear and lifestyle products for men, women, and kids.
The exceptional quality of V Star products has made it a brand name synonymous with comfort. V-Star has more than 30 manufacturing units spread across India.
The company also arranges for units run by charitable institutions to employ women to manufacture its women's products, supplying them with the material.
What led Sheela Kochouseph Chittilappilly to the formation of V-Star?
In 1995, she summoned all her resources and decided to start garment-making. She got together designers, embroiderers and a cutter (ten people in all). She started making salwar kameezes under the brand name V-Star. They have 16 units in and around Kochi where 50-60 women from charitable institutions run by nuns work for us. They have other units in Tirupur where panties, camisoles and leggings are manufactured.
Entrepreneurship – A choice for Women to achieve ambitions | Sheela Kochouseph
Learn How to Set Goals and become who you were meant to be
How would you describe yourself?
"I am and have always been a hands-on person. As a student, I was a hockey player, representing my college at university hockey competitions, and I took part in all the activities in Vimala College, Thrissur, where I studied Home Science. As a homemaker and mother, I did household chores myself. I can live with the minimum. The only thing I can't do is sit idle. Now I feel it is this trait in me that led me to my achievements. Even today, I like to do most of the work myself whether it is gardening or daily household chores." Sheela said to The  Hindu
You may like to read Techniques for setting effective Goals and the science of achieving 
This video introducing garments production units of V-Star – Make In Kerala. This video explains how big is V-Star founded and managed by a housewife turned entrepreneur, Sheela Kochouseph Chittilappilly.
Garments Production Units of V-Star
Related posts
Conclusion
Her success story proves that women are not for just being as housewives. But have the power to achieve anything if they have the desire and courage to take challenges in life.
Handpicked success stories you may like to read.
Are you a housewife? Do you like to become a businesswoman?
Kindly share this inspiring story on your social media network. Help others to read the story.
You are free to share your views in the comment box below.
Mathukutty P. V. is the founder of Simply Life Tips,  a passionate Blogger, Content writer, Influencer, YouTuber. Lives with a notion "SIMPLE LIVING, CREATIVE THINKING". Believe – "Sharing is caring."  "Learning never ends."