(Last Updated On: September 26, 2021)
Do you know the inspiring success story of Shahrukh Khan? His parents were not rich, but they lived a middle-class life in rented apartments in Delhi. His father had several business ventures including a restaurant. From that life and struggle, he achieved great success in life.
When we see great persons, celebrities and successful people we think they have achieved the success, wealth and fame easily. But the reality is they have struggled a lot to achieve success. Let's look into the success story of the "Badshah of Bollywood", Shahrukh Khan and watch his inspirational talk.
Shahrukh Khan – Top 10 Success Rules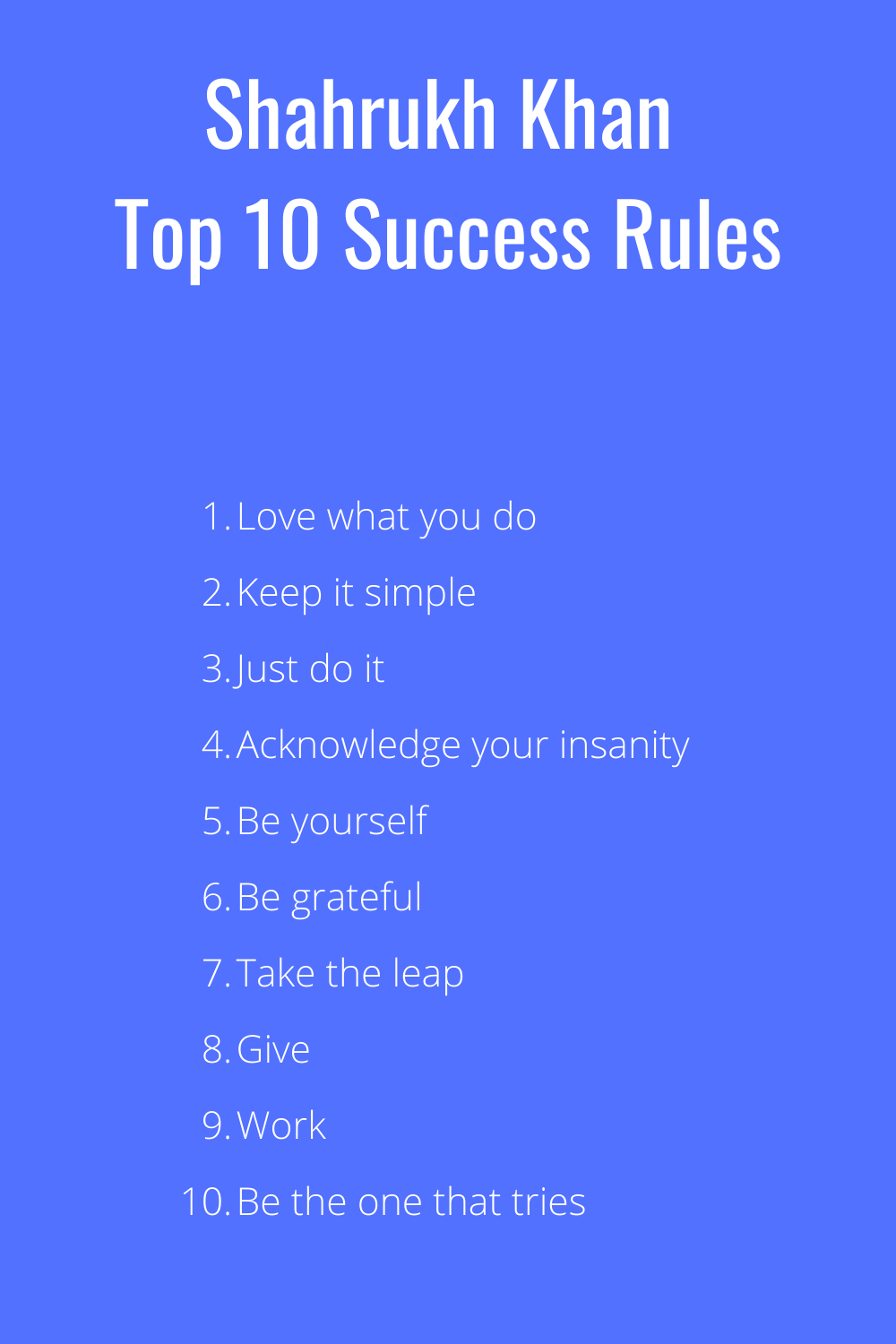 Love what you do
Keep it simple
Just do it
Acknowledge your insanity
Be yourself
Be grateful
Take the leap
Give
Work
Be the one that tries
About Shahrukh Khan
Shahrukh Khan is an Indian Bollywood Superstar, Business magnate, Investor, producer, and philanthropist. He is also known as SRK and King of Bollywood.
He is famously known for his movies Kuch Kuch Hota Hai, Bazigar, Daar, Dilwale, Chak De, My name is Khan and Much more.
Early life and family
Born on 2 November 1965 into a Muslim family in New Delhi.
He spent the first five years of his life in Mangalore, where his maternal grandfather, Ifthikar Ahmed, served as the chief engineer of the port in the 1960s.
Khan described himself on Twitter as "half Hyderabadi (mother), half Pathan (father), and some Kashmiri (grandmother)"
Grew up in the Rajendra Nagar neighbourhood of Delhi.
His father had several business ventures including a restaurant, and the family lived a middle-class life in rented apartments.
Attended St. Columba's School in central Delhi where he excelled in his studies and in sports such as hockey and football and received the school's highest award, the Sword of Honour.
In his youth, he acted in stage plays and received praise for his imitations of Bollywood actors, of which his favourites were Dilip Kumar, Amitabh Bachchan, and Mumtaz.
Khan enrolled at Hansraj College (1985–88) to earn his bachelor's degree in Economics but spent much of his time at Delhi's Theatre Action Group (TAG), where he studied acting under the mentorship of theatre director Barry John.
After Hansraj, he began studying for a Master's Degree in Mass Communications at Jamia Millia Islamia but left to pursue his acting career.
He also attended the National School of Drama in Delhi during his early career in Bollywood.
Although Khan was given the birth name Shahrukh Khan, he prefers his name to be written as Shah Rukh Khan and is commonly referred to by the acronym SRK.
He married Gauri Chibber, a Punjabi Hindu, in a traditional Hindu wedding ceremony on 25 October 1991, after a six-year courtship.
Son Aryan (born 1997)
Daughter Suhana (born 2000).
Abram (born 2013) – born through a surrogate mother.
Career
Khan began his career with appearances in several television series in the late 1980s.
He made his Bollywood debut in 1992 with Deewana.
Early in his career, Khan was recognised for portraying villainous roles in the films Darr (1993), Baazigar (1993) and Anjaam (1994).
He then rose to prominence after starring in a series of romantic films, including Dilwale Dulhania Le Jayenge (1995), Dil To Pagal Hai (1997), Kuch Kuch Hota Hai (1998), Mohabbatein (2000) and Kabhi Khushi Kabhie Gham… (2001).
Khan went on to earn critical acclaim for his portrayal of an alcoholic in Devdas (2002), a NASA scientist in Swades (2004), a hockey coach in Chak De! India (2007) and a man with Asperger syndrome in My Name Is Khan (2010).
His highest-grossing films include the romantic comedy Chennai Express (2013), the heist comedy Happy New Year (2014), the action film Dilwale (2015), and the crime film Raees (2017).
Many of his films display themes of Indian national identity and connections with diaspora communities, or gender, racial, social and religious differences and grievances.
As of 2015, Khan is co-chairman of the motion picture production company Red Chillies Entertainment and its subsidiaries and is the co-owner of the Indian Premier League cricket team Kolkata Knight Riders and the Caribbean Premier League team Trinbago Knight Riders.
He is a frequent television presenter and stage show performer. The media often label him as "Brand SRK" because of his many endorsement and entrepreneurship ventures.
Khan's philanthropic endeavours have provided health care and disaster relief, and he was honoured with UNESCO's Pyramide con Marni award in 2011 for his support of children's education and the World Economic Forum's Crystal Award in 2018 for his leadership in championing women's and children's rights in India.
He regularly features in listings of the most influential people in Indian culture, and in 2008, Newsweek named him one of their fifty most powerful people in the world.
Referred to in the media as the "Badshah of Bollywood", "King of Bollywood" and "King Khan" earned numerous accolades, including 14 Filmfare Awards.
Shahrukh Khan Emotional Speech
I Had No Money And No House – SRK 25 Years Of Life
Khan is one of the most decorated Bollywood actors. He has received 14 Filmfare Awards from 30 nominations and special awards, including eight for Best Actor; he is tied for the most in the category with Dilip Kumar.
Shahrukh Khan – Filmfare Best Actor award
Baazigar (1993)
Dilwale Dulhania Le Jayenge

 (1995)

Dil To Pagal Hai

 (1997)

Kuch Kuch Hota Hai

 (1998)

Devdas

 (2002)

Swades

 (2004)

Chak De! India

 (2007)

My Name Is Khan

 (2010).
At times, he has garnered as many as three of the five total Filmfare Best Actor nominations.
Shahrukh Khan – Government Awards
Shahrukh Khan – Five honorary doctorates
Shahrukh Khan – Brand Ambassador
Khan has been the brand ambassador of various governmental campaigns.
He is a member of the board of directors of the Make-A-Wish Foundation in India
In 2011 he was appointed by UNOPS as the first global ambassador of the Water Supply and Sanitation Collaborative Council.
He has recorded a series of public service announcements championing good health and proper nutrition.
Joined India's Health Ministry and UNICEF

 in a nationwide child immunisation campaign.

In 2011

He received

UNESCO

's Pyramide con Marni award for his charitable commitment to provide education for children, becoming the first Indian to win the accolade.

In 2014, Khan became the ambassador for Interpol's campaign "Turn Back Crime".

 In 2015, Khan received a privileged degree from the 

University of Edinburgh

, 

Scotland

.

 In 2018, Khan was honoured by the 

World Economic Forum

 with their annual Crystal Award for his leadership in championing children's and women's rights in India.
Shah Rukh Khan & Cast of HNY and Sundar Pichai | Talks at Google
You may like to read the success story of  Sundar Pichai Google Ceo, one of the most humble CEO of a giant company, Google. He is an eminent Indian making India proud. He studied in IIT Kharagpur.
Conclusion
Mr. Shahrukh Khan always inspires the young generation with his motivational speech, interviews, quotes, and Films.
After reading the post and watching the videos of his inspiring talk what did you learn? You must have realised that without hard work and dedication you can never achieve success in life.
Inspiring stories for further reading
Are you a fan of Shah Rukh Khan?
Share this success story on your network.
Feel free to share your views in the comment box below.
Information source: Wikipedia
Bollywood Hungama [CC BY 3.0], via Wikimedia Commons
Mathukutty P. V. is the founder of Simply Life Tips,  a passionate Blogger, Content writer, Influencer, YouTuber. Lives with a notion "SIMPLE LIVING, CREATIVE THINKING". Believe – "Sharing is caring."  "Learning never ends."