(Last Updated On: June 27, 2020)
Many people have workplace stress problem. Heavy workload, no-cooperation from colleagues, problems with management and other problems. Do you find it difficult to manage workplace stress?
Let us find more about workplace stress and easy solutions to this problem.
How To Manage Workplace Stress?
Are you worried about how to solve the problem of stress in the workplace? Nothing to worry. We have to face many problems in this life journey. But be happy because every problem has a solution.
First of all, we have to find the causes of stress in the workplace. There are many reasons for this. Here we will discuss a few only. If you know more causes, you can mention in the comment box below.
What are the symptoms of stress?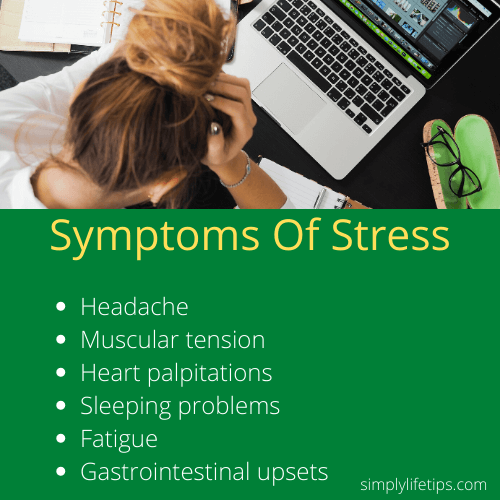 Headache
Muscular tension
Heart palpitations
Sleeping problems
Fatigue
Gastrointestinal upsets
Read Easy Ways To Get Better Sleep At Night
What are the causes of workplace stress?
Poor communication with co-workers
Fear of being laid off
Work that requires high-level decision making and mental pressure
More overtime due to workload
Not receiving enough support from co-workers,  supervisors and the management
The pressure to perform to meet the expectations of the management
Low levels of recognition and reward even after hard work
Lack of knowledge and control over your work
Read 7 Workplace Communication Mistakes That Can Damage Your Career
10 Ways To Manage Workplace Stress
Find easy ways to solve workplace stress and enjoy your work and career.
Click To Tweet
How to manage workplace stress with physical exercises? – Infographic
Physical activities are very important to recover from any kind of mental health problems. Simply taking medication will not cure mental health problems. Your body exercise has an important role to heal problems like stress, depression and such mental health problems.
Below infographic will help you to understand how physical exercises can help you to fight the workplace stress.
Infographic Credits: visually
Read Depression And Stress Resilience
Conclusion
Find out the real reason for your stress in the workplace and look at the right strategies to manage it. You may have identified several things in the video and infographic. If needed, consult a doctor or an expert and follow their advice.
Recommended for further reading
Do you have stress at work?
What do you do when you feel stress at work?
Share this post on your network and help others to read and recover from stress in the workplace.
Feel free to share your views in the comment box below
I am Mathukutty P. V., a proud Indian, Blogger, YouTuber. I started Simply Life Tips, made in India with love, to share useful things with the world. I believe, 'Sharing is Caring! Learning never ends!'.